"It is of great significance to carry out fencing demonstration activities among middle school students. It not only provides a platform for middle school students to display and communicate, but more importantly, allows middle school students to enjoy the joy and confidence brought by the fencing sport and hone their resolute character in the sport. He believes that the development of the activity is consistent with China 's basic education's pace towards becoming world-class. "Said Li Xun, deputy director of the Fujian Education Department.
Nearly 200 teachers and students from 19 demonstration high schools in the province participated in the event. The event consists of two groups, men's and women's. The two groups are divided into individual and team competitions.
China Education News Network (Reporter Lin Huanxin) On December 28-29, the first fencing demonstration event of the Fujian Provincial Exemplary High School Construction School was held in Fuzhou No. 1 Middle School and High School in December 2019. The event was hosted by the Education Department of Fujian Province and hosted by Fuzhou No.1 Middle School.
Men's Foil Individual Competition In Progress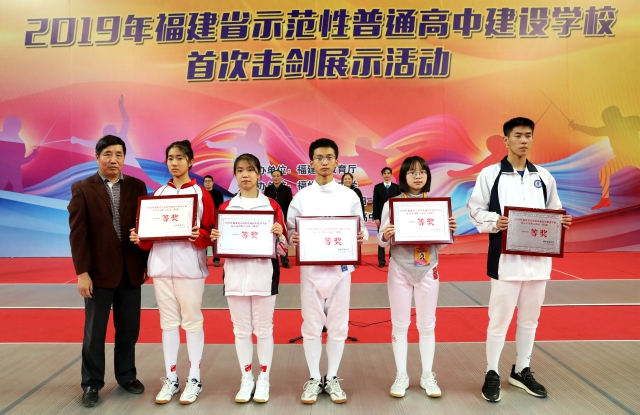 Li Xun, deputy director of the Fujian Provincial Department of Education, awarded the first prize
It is understood that at present, at least one of five projects including tennis, fencing (foil), rowing, rock climbing, and shooting are being carried out in the demonstration high school in Fujian Province. From the middle of December, Fujian Provincial Department of Education has successively held the first tennis and shooting demonstration activities of model ordinary high school construction schools. In the future, demonstrations of rowing and climbing projects will also be held.